Stop wasting time looking for that bike, if you see it here just pre-purchase with a small holding deposit and get on with other things.​
Imported, Quality and given the love they deserve​
Incoming bikes—for more info on any of these get in touch!
We have been importing quality motorcycles since 2001, let our experience assist your choice of quality ride.
See what you'd like? People have secured bikes with a small deposit, which means you can do other things instead of spending every spare minute looking for that ride!We have robust checking procedures in place with people on the ground in Japan checking potential purchases so we know what we're getting!
And this peace of mind is passed on to you. Bikes are professionally packed in Japan to avoid transit damage, then given a comprehensive check and service here in NZ to ensure no hassles for you with your bike.
Triumph Tiger 1050 ABS 2011 11400km
[This is where you add your description]This is the first paragraph of text in your post. This text will appear as the description of your post on all blog feeds throughout your site. If you would like an alternate description to appear instead, open the Blog Properties Panel to the left, expand the Display tab and enter new text into the Featured Description area.Did you know that you can also add any other element that you would normally use on your websites by simply opening the Elements Panel to the left and dragging and dropping the element you want onto your canvas? You might notice that in the dropdown for Blog in the Element Panel there is a Blog Feed element. Try that out to see how you can customize different feeds on your site to show different categories.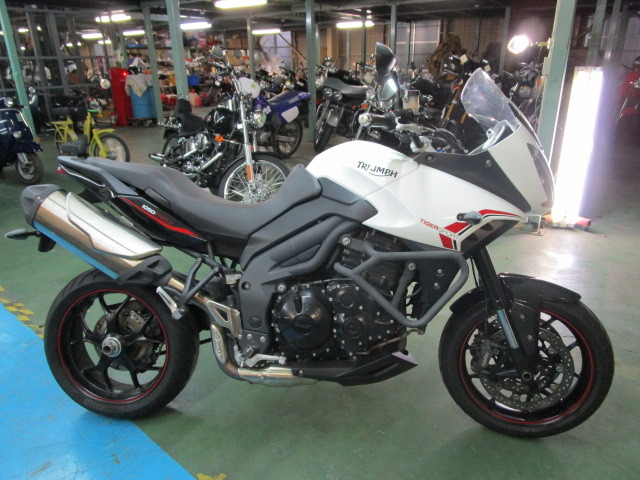 Triumph Tiger Sport 2013 9600km
Lovely low km example. Enquire now for more info.
Great example of these iconic collectables. Inquire now for more info.
Triumph Tiger 800 XCA 2018 3300km
The top of the line Tiger, PTF dash and all the bells and whistles. A near new bike that will save you thousands. Inquire now for more info.
Immaculate mint excellent all rounder that will go off road too. Inquire now for more info.
Triumph Thunderbird 900 2002 16000km
They dont come up like this any more, clean and shiny and low km. Contact us for more info.
Suzuki GSX R1100 Slabside 1988 4600km
A rare classic collectable, has a period Yoshimura slipon. Last of the slabsides.
Ducati Monster M1200S 2014 8800km
A low km mint S model. Why pay more?